WWDC 2014 Wrap Up, Sherlock All The Things Edition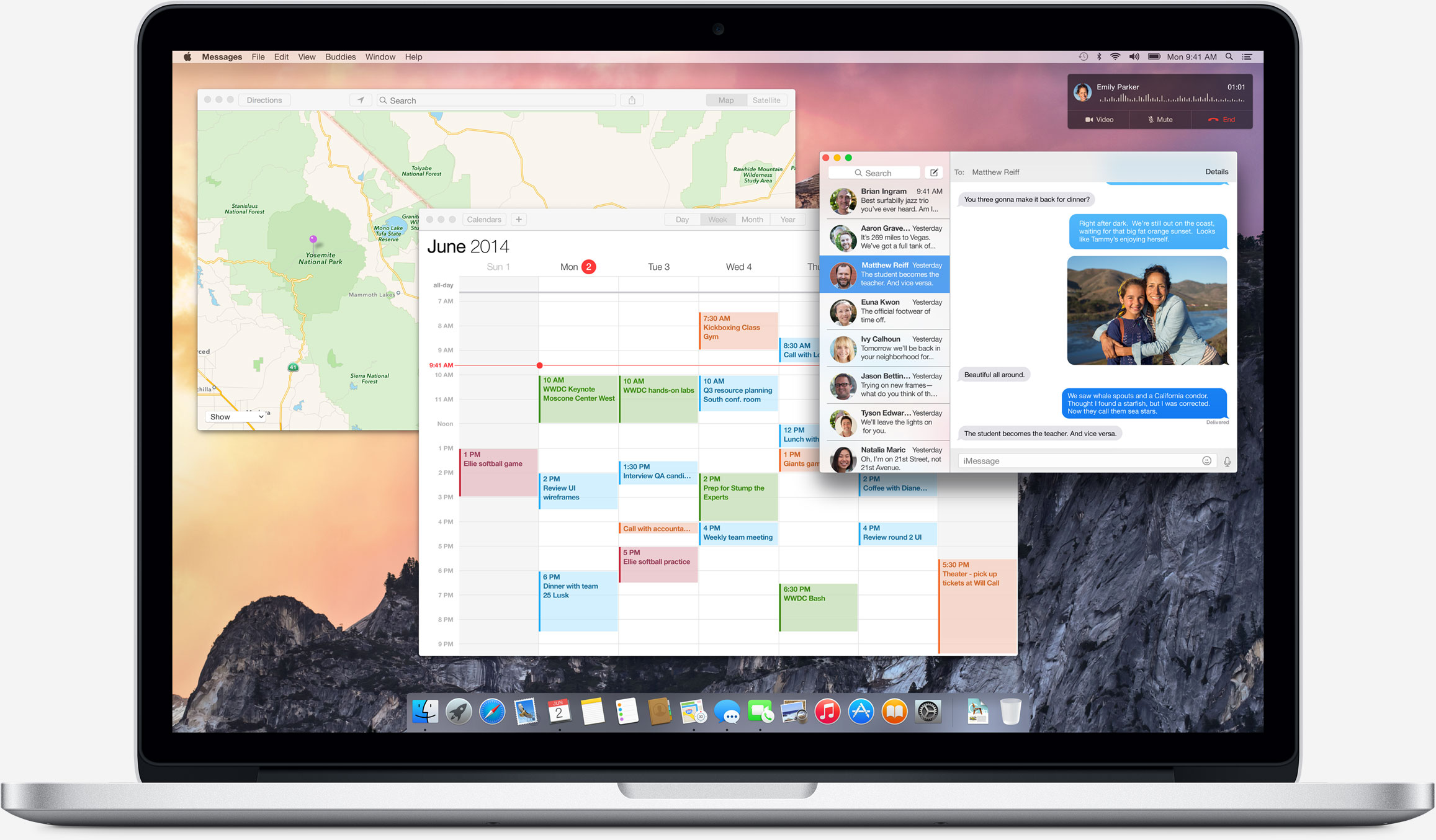 The keynote from this year's WWDC has just wrapped, and Viticci is right when he says this isn't just Apple skating to where the puck is, this is Apple creating an entirely new ball game. Apple kicked things off by saying it was an even with three main focuses — OS X, iOS, and developers — and then they went on to deliver one of the biggest Apple events in recent history. Let's dance.
OS X Yosemite
Apple's first cab off the rank was OS X, and just like the rumours predicted, the new OS X has a fresh coat of paint, along with improvements to apps across the board. After a few quick quips about the name, OS X Yosemite was announced with a brand new look, one that brings the translucency of iOS and brings it to the desktop. The entire OS now looks fresher, typography has been tightened up, and yes, the icons are now flat (check out that new Finder icon!). But it's still, more or less, the OS X you know and love — oh, except for that dark mode.
Spotlight gets revamped in Yosemite, sherlocking Alfred by putting Spotlight searches front and centre instead of relegating them to a far off corner of your display. Spotlight can still do all the same things as it did before, but now draws from more data sources: it'll search content from the iTunes Store or from the web, and you can even get movie showtimes and do unit conversions. With Yosemite, Spotlight becomes more useful than ever before.
Notification Centre now has widgets, presumably inheriting them from Dashboard. Mail gets a few new features: MailDrop is where attachments too large for the recipient get sent via iCloud servers, where they're linked to the original email at the other end, and Markup is kind of like Skitch-like annotations for images sent via Mail.
iCloud on OS X was also a major focus point, making Dropbox all but irrelevant with the introduction of iCloud Drive. It makes all your documents accessible from the Finder, bringing that iCloud-Finder integration you've been waiting for — of course, it still lets you store your files however you want, and it'll sync across Macs and even Windows machines.
Safari's revamp is less of a revamp and more of a UI overhaul, hiding away lots of the UI chrome and focusing on the content. The bookmarks bar was either hidden away or totally gone in Apple's demos during the keynote, but both the new tab view (where tabs can be grouped by website) and the ability to scroll all open tabs are welcome changes. Safari also has the performance and energy advantages over other web browsers, according to graphs shown off on stage.
Continuity was another big one for OS X, addressing the need for the transition between iOS and OS X devices to be smooth as possible. AirDrop now works between iOS and Mac, and Handoff lets you continue your work right where you left off. Start composing an email message on your iOS device, and Mail on your Mac will be able to pick it up. Ditto, productivity apps. Discourse, the software that powers our forums, already has a very similar feature, except limited to the web. If you start composing a new post on the web, you'll be able to see your drafted reply on any other device signed into your account.
Then things got weird in OS X land: iPhone hotspots can be created from OS X, which then automatically connect when your phone is in range. You can now send SMS messages from your desktop with your phone acting as a relay, and the OS X-iOS integration wouldn't be complete without the ability to make and receive calls from your Mac. The really cool thing is, you can do all this regardless of where your iPhone actually is; I'm not sure if this is some Bluetooth trickery or something more, but it's impressive nonetheless. It's the kind of phone-computer integration we've been wanting for years, and now, with Yosemite, Apple has given us exactly what we've asked for.
There's a Yosemite developer preview up today, with public availability sometime in Spring for us Australians. However, it will also be available beforehand to members of Apple's public beta program, which you can sign up for today if you feel like living on the edge. Like Mavericks was before it, Yosemite will be free.
iOS 8
The numbers from iOS remain as impressive as ever: over 800 million iOS devices sold, with 100 million iPod touch units, 200 million iPads, and 500 million iPhones. Tim said there were more than 130 million devices sold to first-time Apple users, and iOS devices had the highest customer satisfaction scores around, but all we really wanted to hear was about iOS 8.
For the most part, the look and feel hasn't changed; Apple did enough of that in iOS 7. What Apple have done with iOS 8, though, is refine everything. You can now action notifications from wherever they appear, including replying to SMS messages and liking Facebook statuses right from Notification Centre and the lock screen. The fast-app switcher, if we're still calling it that, now has your most-contacted, uh, contacts up the top for easy access, so you're never more than a few taps away from calling or texting them. Spotlight in iOS gets much of the same improvements to Spotlight in Yosemite; more data sources, searching content from the iTunes Store and on the web, and even the ability to look up points of interest.
Safari on iPad gets a similar tab overview to the one on Safari for Yosemite, and also inherits the same sidebar featuring bookmarks and shared links. Mail on iPad goes gestural, with gestures for marking email as unread, as well as a swipe-to-delete gesture. And if you've ever wanted to see another email message in your inbox while composing a new message, you can now do that with a quick swipe down on the compose screen.
Apple have been thinking about what to do with the iOS keyboard, and their innovations are two-fold. First, there's QuickType: it's kind of like the predictive text that we saw all the way back in iOS 5, only much improved (very keyboard, wow). QuickType predicts what you're going to type next on a per-contact basis, so it can tell what kind of language you use to communicate with which people. The meeting can either be "awesome" or "rescheduled", depending on who you're talking to. Plus, Apple cares about your privacy, so all of this learning happens on-device. QuickType will support a bunch of languages on launch, including Canada, who apparently has a language of their own now that's separate from the US. Sure, OK.
The second part of Apple's keyboard was introduced a little later in the keynote, but I'll talk about it here: third party keyboards. IOS 8 brings the ability to install a third party keyboard that replaces the standard iOS one, meaning that yes, you can now have the Swype keyboard you've always wanted. Keyboards don't have network access by default, but Apple does give you that option in case it opens up extra features for any given keyboard. But still, replaceable keyboards in iOS? I never thought we'd see the day.
Messaging, being the most-used app on iOS, also gets a big update in iOS 8. You can now name group threads, add and remove people from group messages, as well as set Do Not Disturb on a per-thread basis. Oh, and if things get too noisy you can always leave the thread — it'll mean no more iMessage holiday shenanigans, but maybe that's for the best.
You can share your location with others via Messages now. Tap to talk turns your iPhone into a glorified walkie-talkie, letting you send quick audio messages to anyone — the "lift to listen" feature is particularly slick. IOS has the same iCloud Drive that OS X now has; it appears as a panel in supported apps, meaning you don't get duplicated files copied between apps. While apps are still sandboxed, iCloud Drive acts as the centralised storage for all your files. Like Apple always wanted, perhaps?
Enterprise features for iOS got a bit of a bump (per-message S/MIME, support for Exchange out of office and auto-reply, etc), but health was where it was at. HealthKit gives app developers access to health and fitness-related metrics, accessible by end users via the Health app. In the future, HealthKit will also let healthcare practitioners read and write data from checkups. We're really only scratching the tip of the iceberg here with what's possible in the health space, but already Apple has some great ideas coming into play.
Family sharing was next on the list, and with it, Apple now acknowledges the existence of family units. Up to six family members can now share purchases, as well as all the other stuff: photos, calendars, reminders, and Find my Friends. If your kids have an iOS device of their own, they can use your credit card for purchasing apps or in-app purchases, and the great thing is, you'll be asked for authorisation every time they want to buy something. It's a remarkably clever solution to a problem that previously landed Apple in hot water.
Speaking of photos, we more or less got the iCloud photos revamp we wanted. It appears as if Apple are killing limits on photo storage, with more photos than you can store locally being stored in the cloud, along with their edits. To combat a million photos going back years, Apple has upped the ante on search features for iCloud photo storage, and some really great editing tools make an appearance in Photos. Sliders that automatically analyse the image give you control over the kind of edits you make, and if you want, the finer-grained controls are but a tap away. Extending Apple's continuity theme, edits are updated across devices in near real-time, which brings us back to the Mac.
A cloud-based photo solution needs a new Mac app to go with it, and Apple's new Photos app for the desktop was revealed in a sneak peek. I'm not really sure if it was an iPhoto replacement or just something to browse and edit photos, but it looked really slick: a clean interface, "buttery scrolling", and the same photo editing UI with intelligent sliders we saw on the iOS side of the fence. It'll be available next year, which was just about the only unfortunate news from the keynote.
With iCloud photos, all your photos and videos are stored in full resolution. You still get 5GB free, but Apple has updated the storage tiers; 20GB is now US$0.99 a month, 200GB for US$3.99 a month, with Australian pricing to be advised.
Siri improvements in iOS include an always-listening feature similar to Google's "OK, Google", letting you activate Siri without touching the phone. Siri can now recognise songs ala Shazam, purchase iTunes content for you, and something called streaming voice recognition which is real-time feedback for what you dictate. OK, Siri.
As for availability, iOS 8 is now available as developer preview, available for everyone else in Spring. Interestingly, iOS 8 will still support the iPad 2 and iPad mini, the only non-Retina devices in the lineup.
Developers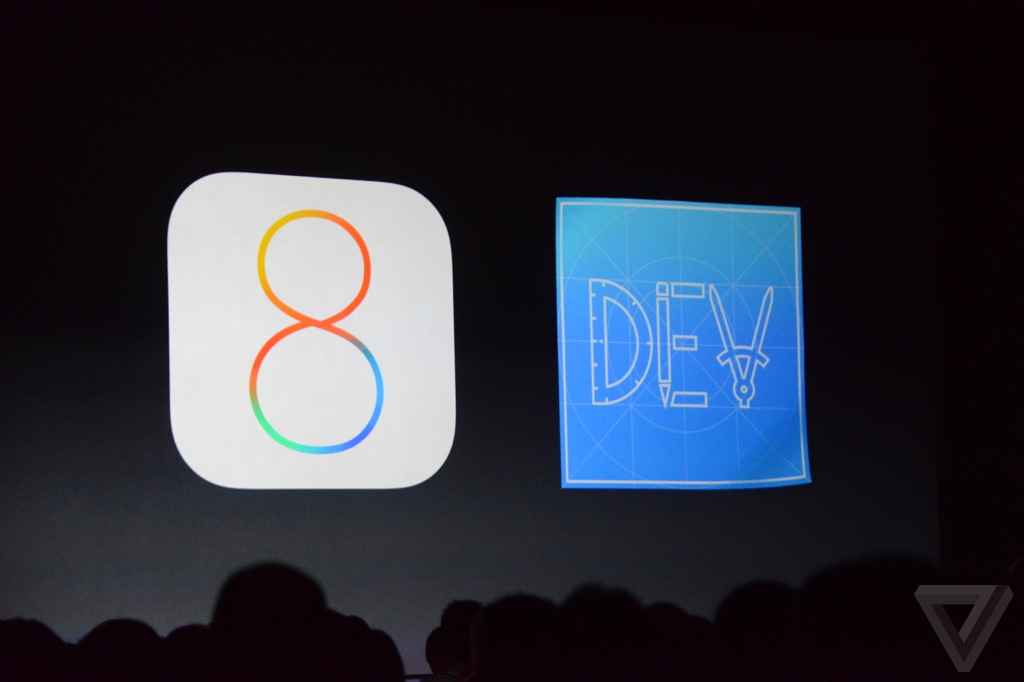 But if you thought that was it, Apple weren't done. No, all that came before was merely the customer-facing parts of iOS and OS X, and the parts for developers were yet to come.
I find it interesting App Store search was one of the first things mentioned. Apple are looking to improve the App Store in big ways, adding trending searches and scrolling results for search results — goodbye, cards interface, we hardly knew ye. Developers can now create app bundles, and short video previews of apps. Apple's TestFlight acquisition rears its head in the form of free TestFlight beta integration.
And then came the part where us mere mortals were reminded this was, after all, a developer's conference. Apple's iOS 8 SDK has over 4000 new APIs for developers. Extensibility was shown straight up as one of the biggest features, letting developers do more than just do inter-app communications. The examples shown included actions, where a Bing app you have installed might let you translate a web page via the standard share sheet in iOS. Or where you can use third-party apps to extend system functionality, like in the case of editing photos from Apple's Photos app with VSCO cam or your image editor of choice. Apps can now define their own widgets, which live in the Notification Centre. To say that Apple ticked boxes in this event would be an understatement — along with Sherlocking all of the things, they ticked all of the boxes.
Touch ID can now be used by developers. Previously limited to just Apple's own apps and usage, Touch ID can now unlock keychain items in apps, or to protect the apps themselves. Camera APIs now expose — if you'll pardon the pun — settings such as exposure, shutter speed, that kind of thing.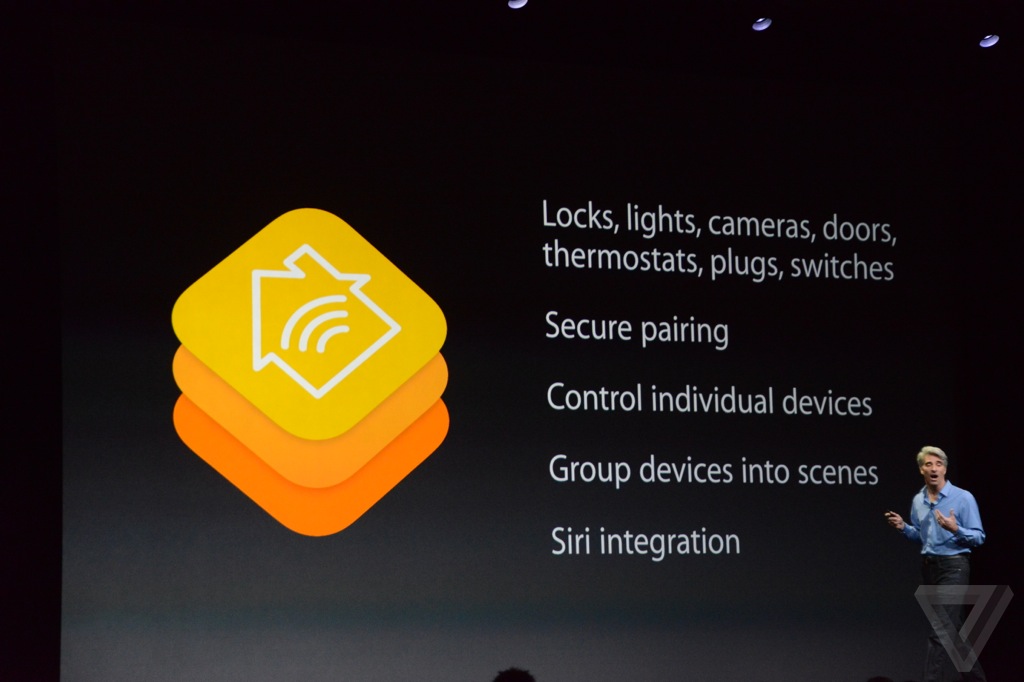 Yes, the rumours were true: Apple's home automation push is real, and it's called HomeKit. It's a home automation certification program, with APIs of its own. It's designed to unify the currently fragmented connected home market, where manufacturers all have their own separate ways of interacting with devices. "Imagine, if you will, a house controlled via Siri, so that when you tell your phone to get ready for bed, it automatically closes the garage door, turn off the lights, lock the front door, and turn down the thermostat."
CloudKit is, from what I gather, devops for developers. Instead of devs having to learn the ins-and-outs of deploying MongoDB or Ruby onto a barebones server, CloudKit can handle that for them. It sounds like a hosted app platform similar to Heroku or AppEngine, and it's free with limits.
Continuing the developer-centric focus, Apple announced Metal, a new set of graphics libraries that are designed to reduce the overhead of OpenGL. It's an extremely powerful way to leverage the compute power of current mobile GPUs, even bringing desktop-class game engines like Frostbite to the iOS platform. The Zen Garden demo from Epic Games looked particularly impressive, and thank goodness it wasn't another Infinity Blade.
Introduced last year, SpriteKit gets light sources, field forces, per-pixel physics and inverse kinematics. It also gets a new sibling, SceneKit — if SpriteKit is designed for 2D casual games (think Angry Birds, Candy Crush Saga), then SceneKit is the 3D equivalent.
But the biggest news for developers was the introduction of a new programming language, Swift. Craig described it as Objective C without the baggage of C. It's fast, modern, safe, and interactive. It has a number of great features developers will care about (closures, generics, multiple return types, namespaces, operator overloading), gives access to all of Cocoa and Cocoa Touch, and uses the same runtime as Objective C.
Xcode's been redesigned to take advantage of the interactivity of Swift; interactive development via Playgrounds is going to be big for education, as it will move programming away from a conceptual, "this is how things fit together" model to one where results can be seen in real time, lowering the barrier for entry — or at least, that's what I think. Swift can work alongside C and Objective C, and the new Xcode already supports it out of the box.
That pretty much wrapped up one of the more feature-packed Apple events in recent memory. Apple seemed more lively at the event — some of the skits on stage were a little cringeworthy at times, but overall Craig, Tim, and Greg all had an air, a vibe, that I've never seen before at any Apple event. I'm not exactly sure why that is, but I kind of like this Apple.
As for our Sherlock tally, the final victims:
Alfred — Spotlight, effectively making it Sherlocked *by* Sherlock (thanks, Anthony)
Dropbox — iCloud Drive
Skitch — Markup in Mail
Shazam — Siri
SnapChat — Messages in iOS
Objective-C/OpenGL — Swift/Metal
I'm not sure about the last one, but let me know in the comments or on Twitter if I missed anything else that was Sherlocked by Apple this morning.
Apple has posted up heaps of information on everything I've covered on their website, so go check out the OS X Yosemite and iOS 8 previews. And if you missed the event itself, you can now watch the keynote on Apple's website too. If you want to talk about anything Apple announced (or Sherlocked) this morning, the forums are right over here.
Photos via The Verge.